Agora a ABAS é Capítulo Brasileiro da IAH-International Association of Hydrogeologists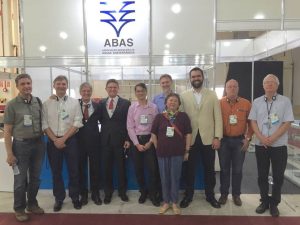 We are very pleased to announce that IAH now has a new chapter in Brazil. Interest in developing a chapter in Brazil dates back to an original initiative between Aldo Reboucas and Bob Farvolden many years ago. After a period of discussion over the last few years, IAH has come to an agreement with the Brazilian Groundwater Association – ABAS – that it should constitute the IAH national chapter.
This agreement was confirmed during the recent 19th ABAS congress and, following the visit of president of the new chapter Everton de Oliveira to the 43rd IAH Congress in Montpellier, was also announced at the Annual General Meeting of IAH on 26th September. We are pleased that these efforts should have come to fruition during our 60th anniversary celebrations and we look forward to a long and productive partnership, working with ABAS to extend the IAH presence in Brazil and to establish joint activities including conferences.